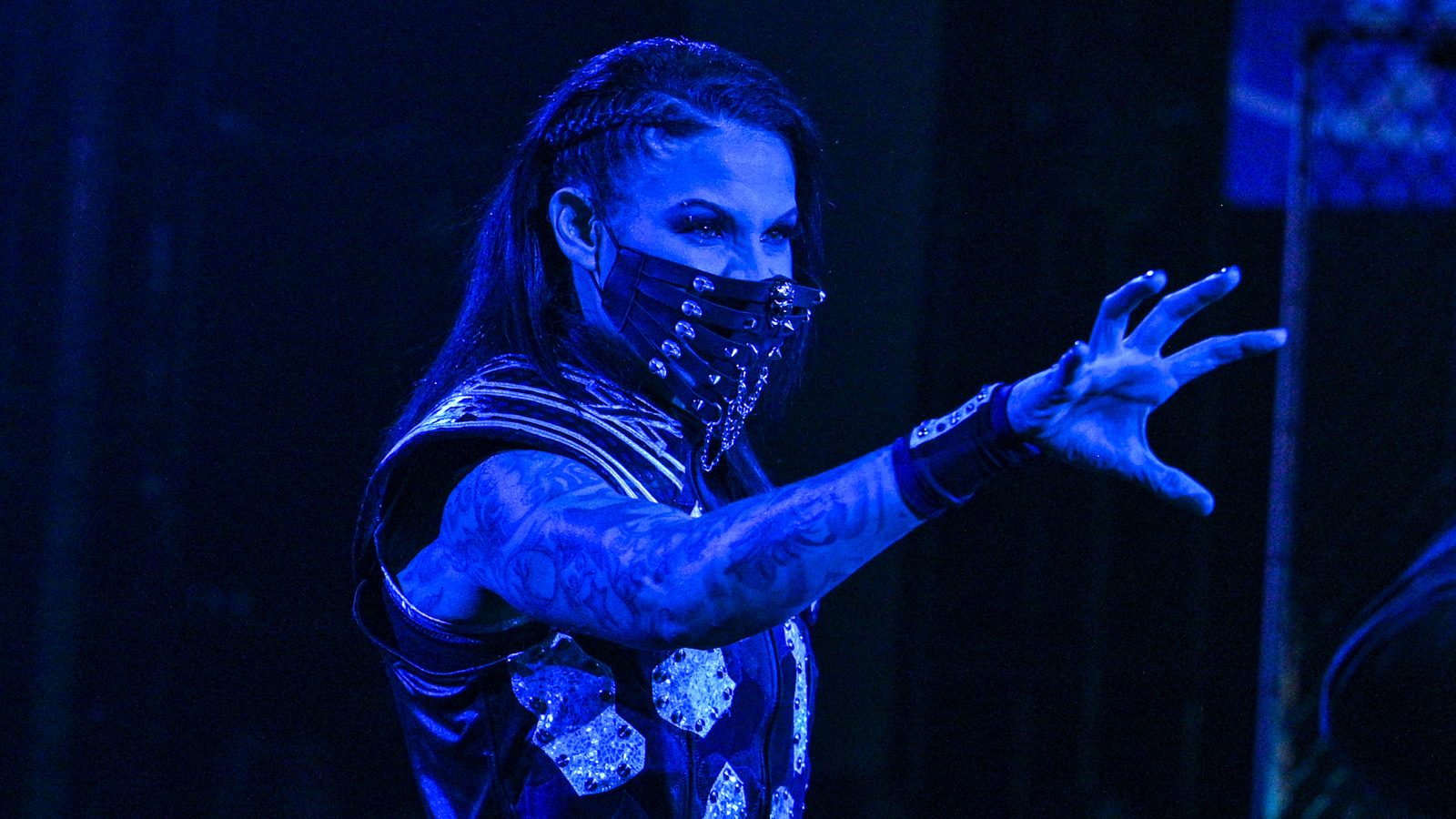 Dakota Kai w/Raquel Gonzalez vs. Mercedes Martinez

Kai and Martinez trade submission attempts. Martinez slaps her way out of a head scissors by Kai. Kai tries a leapfrog but Martinez picks Kai's leg out of the air, Martinez hits a spinebuster. Kai reverses Martinez's slam attempt into a DDT. Martinez kicks out. Kai lands a running boot for a near fall. Kai works over Martinez. Martinez starts to fire up. Kai cuts her off with a uranage into a backbreaker. Kai misses a running boot in the corner. Martinez traps Kai's leg between the top and middle rope. Martinez beats on Kai's knee. Martinez sits Kai on the top rope. Kai elbows her away. Martinez pulls Kai off the top rope and hits the cliffhanger. Kai kicks out.

Kai trips Martinez into the middle turnbuckle. Kai finally hits a running boot in the corner. Martinez rolls out of the ring. After the break. Martinez gets hung up in the ropes. Kai lands a stiff boot to the side of Martinez's head. Kai blasts Martinez with a hangman's codebreaker. Martinez kicks out again. Martinez surprises Kai with a roaring elbow strike. Martinez unloads on Kai in the corner with strike after strike. Martinez hits multiple butterfly suplexes. Martinez hits an armDT. Gonzalez and Martinez get in each other's faces. Gonzalez tries a cheap shot but Martinez ducks and rolls back in the ring. Martinez sets up a DVD but Gonzalez hits the ring and boots her in the face, causing a disqualification.

Winner- Mercedes Martinez

After the match, Gonzalez continues her assault, driving Martinez into the barricade over and over again. Gonzalez lawn darts Martinez into the fencing above the barricade.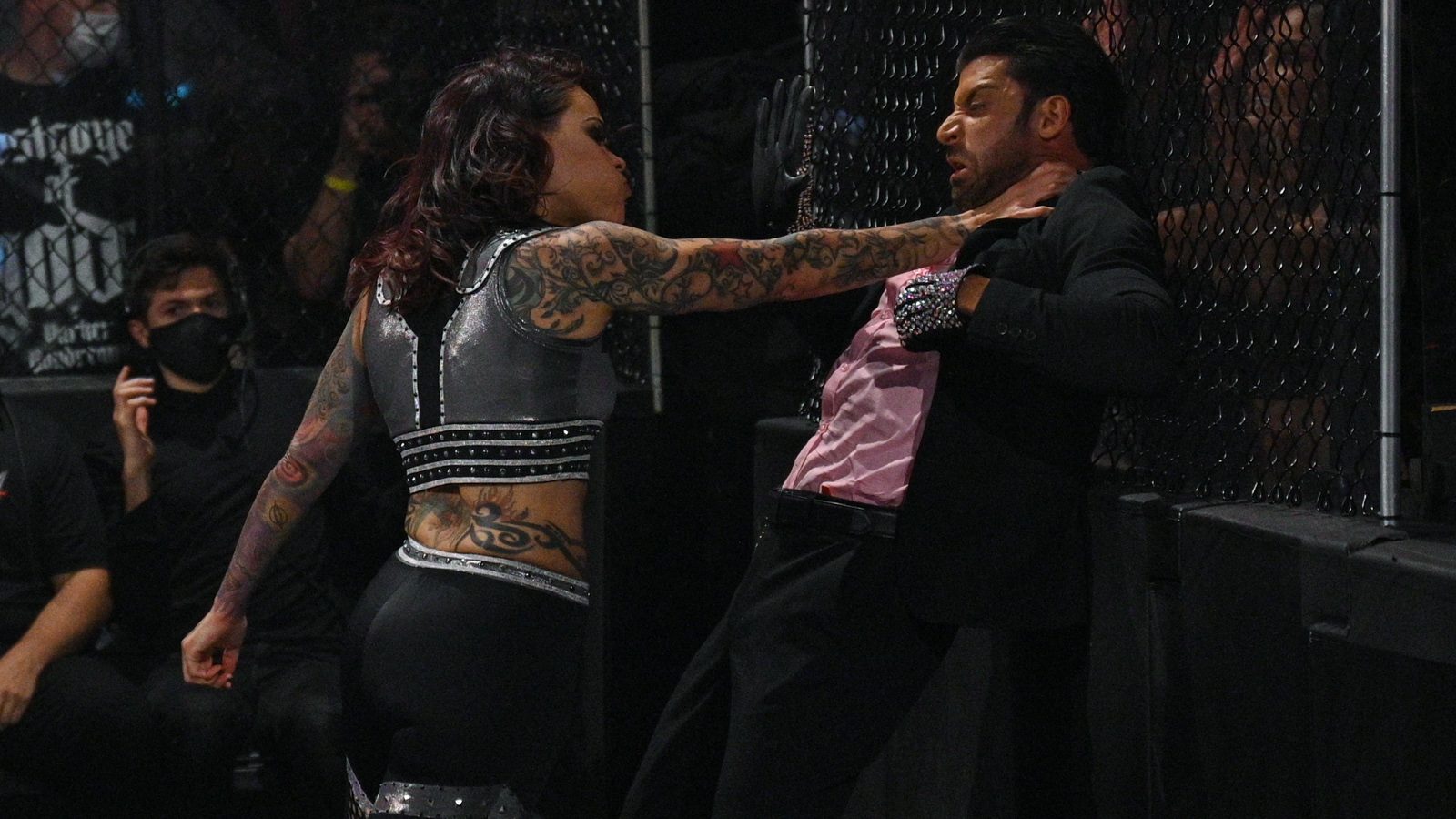 Mercedes Martinez vs. Jessi Kamea w/Aliyah and Robert Stone

Kamea jumps Martinez from behind as soon as the bell rings. Kamea works over Martinez. Martinez destroys Kamea with a running knee. Martinez hits a DVD for the win.

Winner- Mercedes Martinez

After the match, Martinez chases Stone around the ring and pins him against the barricade by his neck. Martinez tells him she wants her money. Stone hands her a stack. Martinez turns to the announce desk. Martinez has a message Raquel Gonzalez. Martinez is coming for her.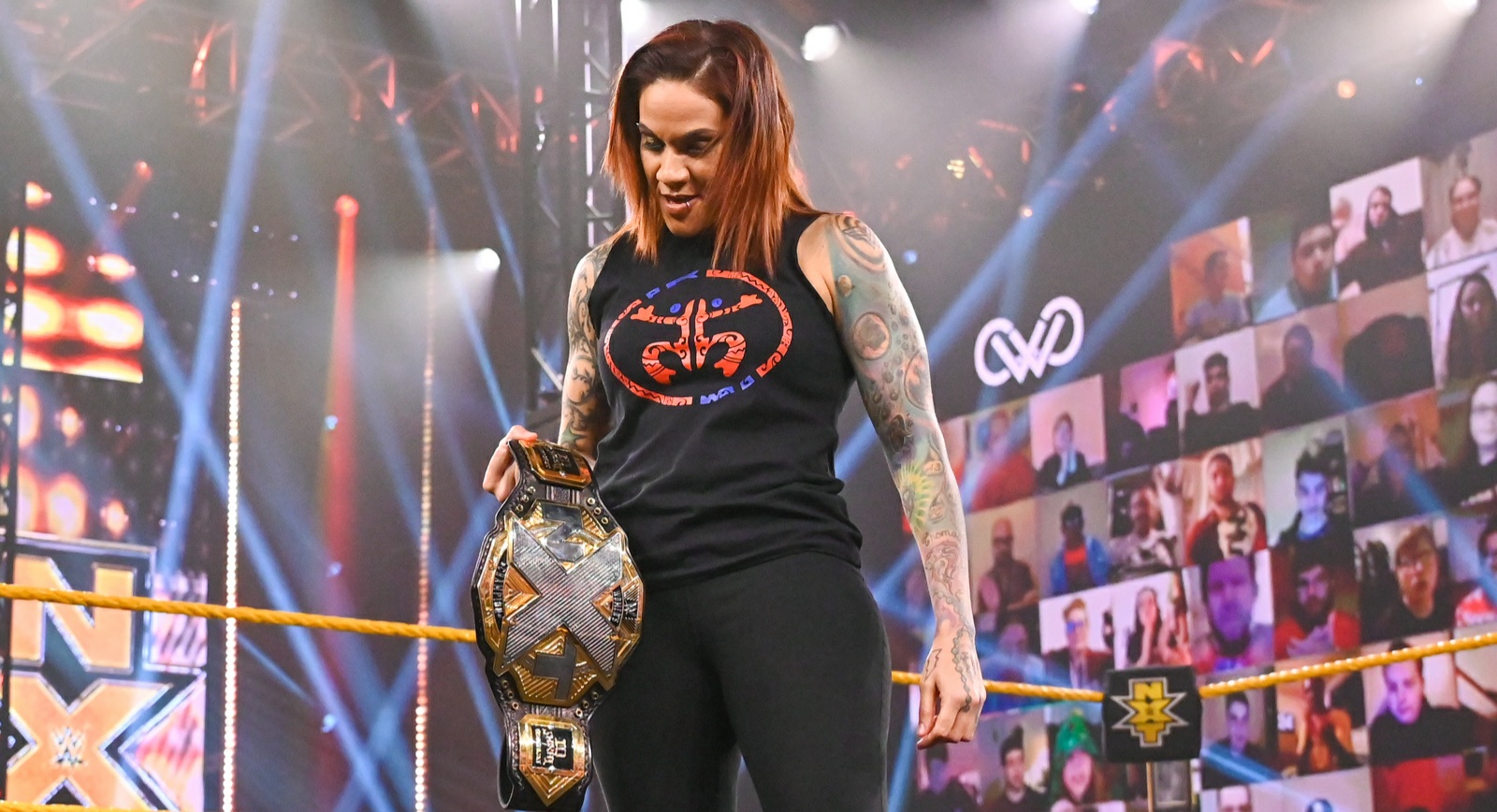 In-Ring Segment: Toni Storm

Storm says that when she wants something she doesn't wait her turn, she makes it happen. Storm wanted to be the first woman to win the Dusty Cup but Io Shirai ruined it. Storm wants to hurt Shirai and is going to take the Women's title from her. Shirai hits the ring and tells Storm she will fight Strom anywhere, any time. Shirai doesn't like Storm. Storm tackles Shirai. Shirai and Storm brawl. Shirai dumps Storm out of the ring. Mercedes Martinez attacks Shirai from behind. Martinez picks up the women's title. Storm rips it out of Martinez's hand. Shirai dropkicks Martinez into Shirai. Shirai goes up for a Moonsault but Storm saves Martinez. Storm drives Martinez into the ring apron. Storm flattens Shirai with multiple hip attacks in the corner. Storm picks up the Women's title and looks at it.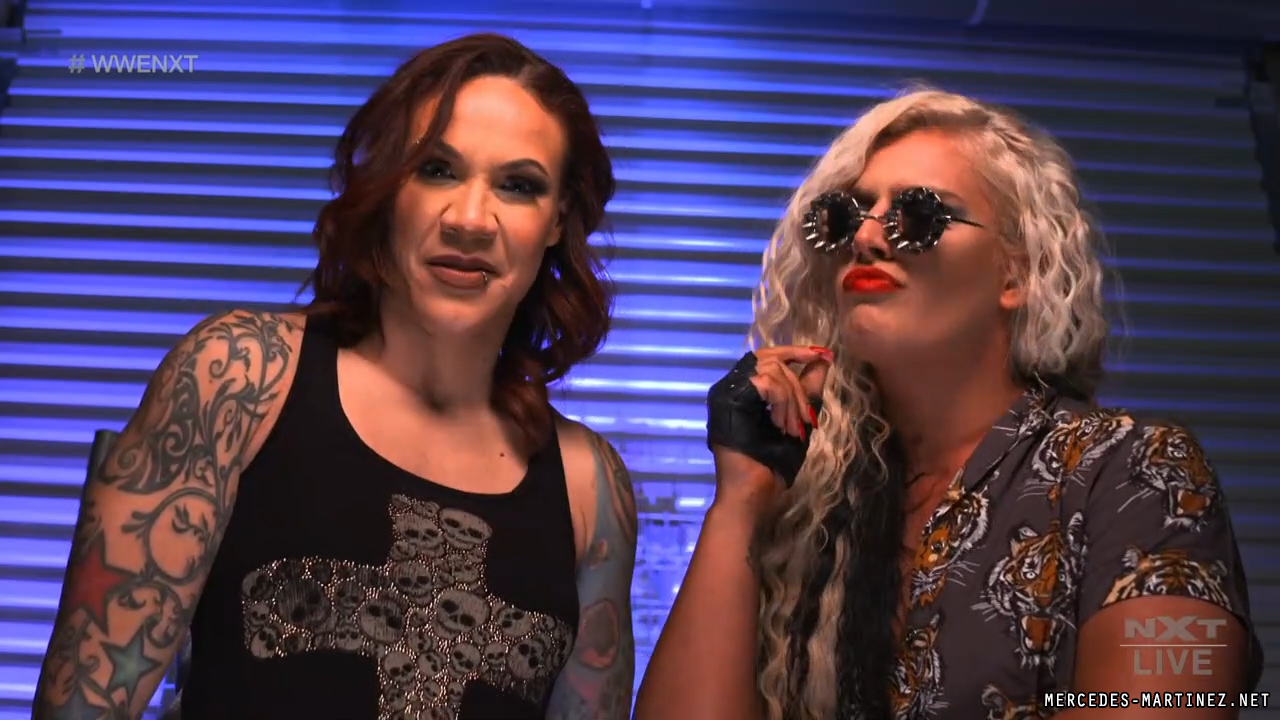 Backstage, Toni Storm and Mercedes Martinez say they are going to destroy Kayden Carter and Kaci Catanzaro tonight.
Women's Dusty Rhodes Tag Team Classic: Toni Storm and Mercedes Martinez vs. Kaci Catanzaro and Kayden Carter

After a bit of back and forth, Storm blasts Carter with a basement dropkick. Martinez tags in and slams Carter. Carter tags in Catanzaro. Carter and Catanzaro double dropkick Martinez. Martinez unloads on Carter. Catanzaro almost lands a head-scissors but Martinez turns it into powerslam. Carter breaks up the pin. After the break, Martinez tries to fireman's carry Catanzaro off the top rope. Catanzaro reverses it into a Mysterio-style top rope ranna. Martinez manages to tag in Storm. Carter tags in and clears the ring. Carter dropkicks Storm and lands in a splash on Martinez.

Carter lands a nasty running boot to Storm. Carter surprises Storm with a slingshot dropkick. Catanzaro crushes Martinez with a corkscrew splash to the outside. Storm German suplexes Carter. Storm locks Carter in a single leg crab with her foot on the back of Carter's head. Io Shirai hops the barricade and attacks Martinez. Carter puts Storm in a rolling Indian deathlock. Catanzaro dives off the top and hits a corkscrew reverse senton bomb for the win!

Winners- Kayden Carter and Kaci Catanzaro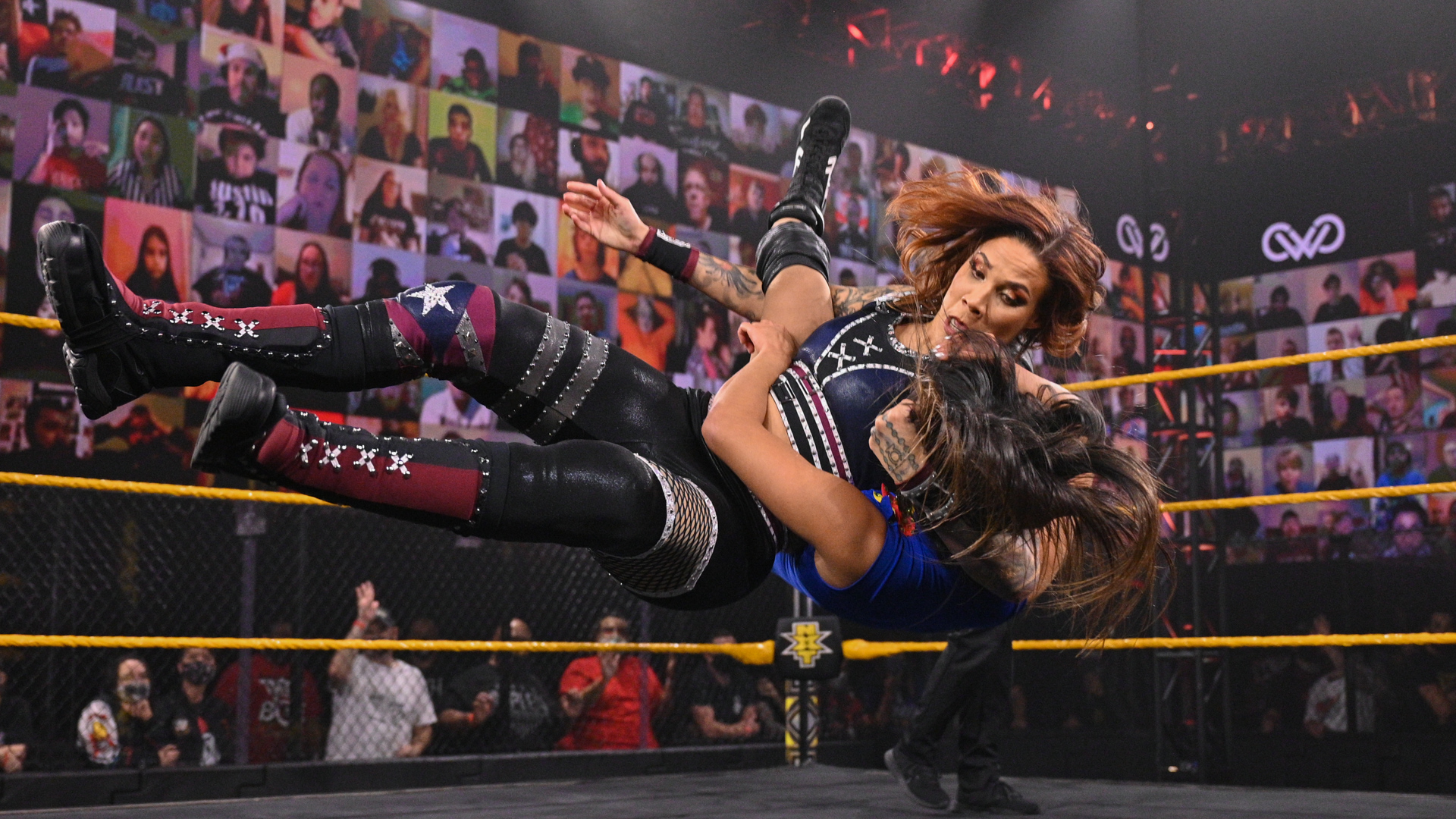 Mercedes Martinez vs. Valentina Feroz

We go back to the ring and out comes Mercedes Martinez for her NXT in-ring return. She hits the ring with a mask over her face as the crowd boos. Valentina Feroz waits in the ring.

The bell rings and Martinez dominates early on. Feroz keeps coming but Martinez nails a big forearm and then drives Feroz into the mat with a chokeslam. Martinez uses the middle rope as the referee warns her. Feroz tries to make a comeback again but Martinez keeps yelling at her and overpowering.

Martinez with a big Spinebuster. Martinez kicks Feroz around and taunts her as the boos get louder. Martinez dominates some more and scoops Feroz on her shoulders for a big Air Raid Crash in the middle of the ring for the pin to win.

After the match, Martinez stands tall over Feroz as her music hits. We go to replays. Martinez yells at the camera and puts the whole locker room on notice.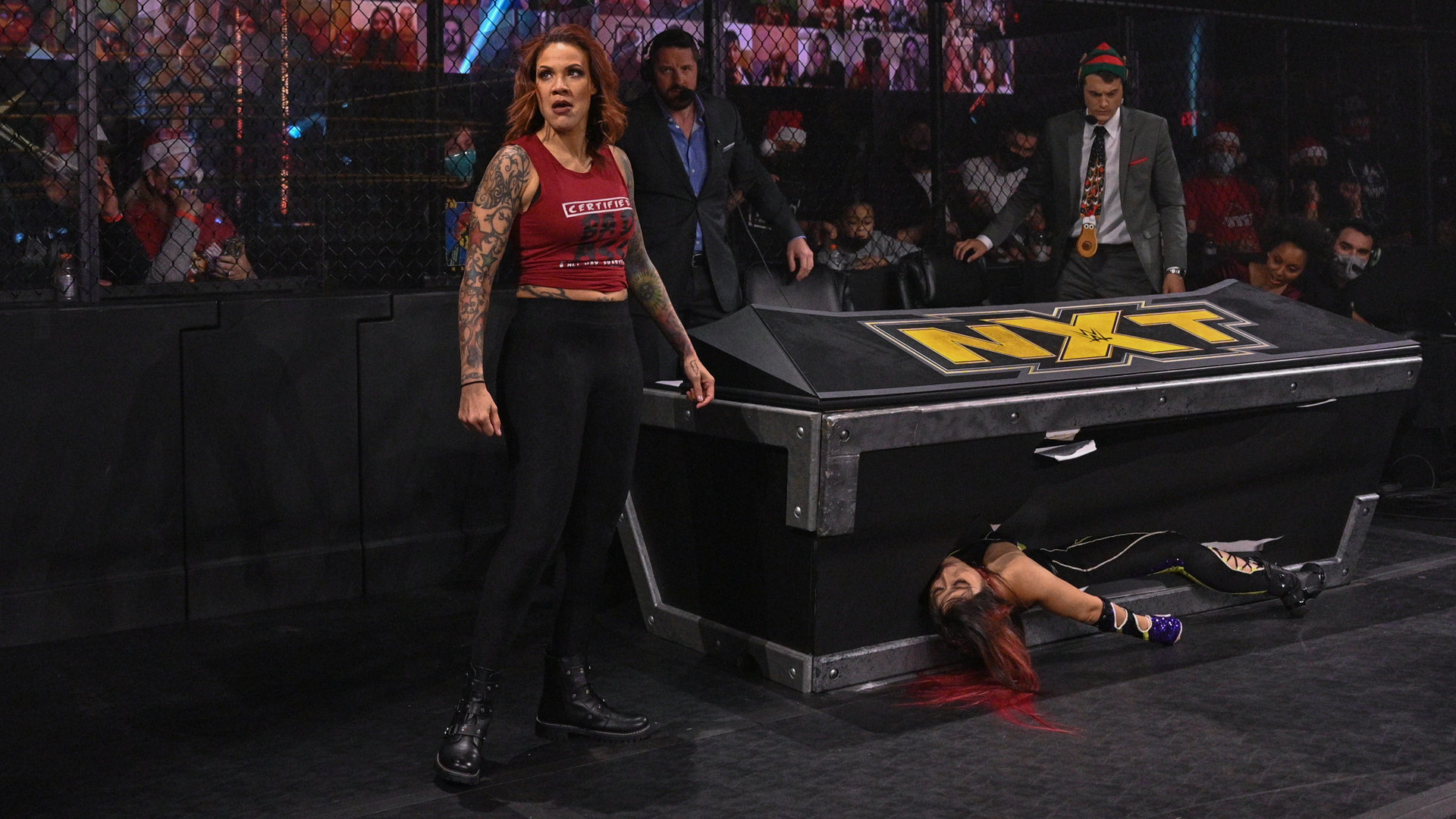 Shirai marches right to the ring, without her title, and she's all business.

Shirai grabs a steel chair and brings it into the ring. She takes a seat and tells Storm to come out. Shirai drops the mic and kicks her feet up, waiting for Storm. Storm's music hits but instead, Shirai is attacked behind by a returning Mercedes Martinez. Martinez takes Shirai to the floor and manhandles her, driving her into the lighting rig and the barrier. The boos get louder as Martinez keeps the punishment coming.

Martinez tries to bring the brawl back into the ring but Shirai kicks her in the face. Shirai comes back to the floor but Martinez decks her, then launches her into the bottom of the announce table. Martinez stands tall over Shirai at ringside and raises her arms as the boos continue. We go to commercial.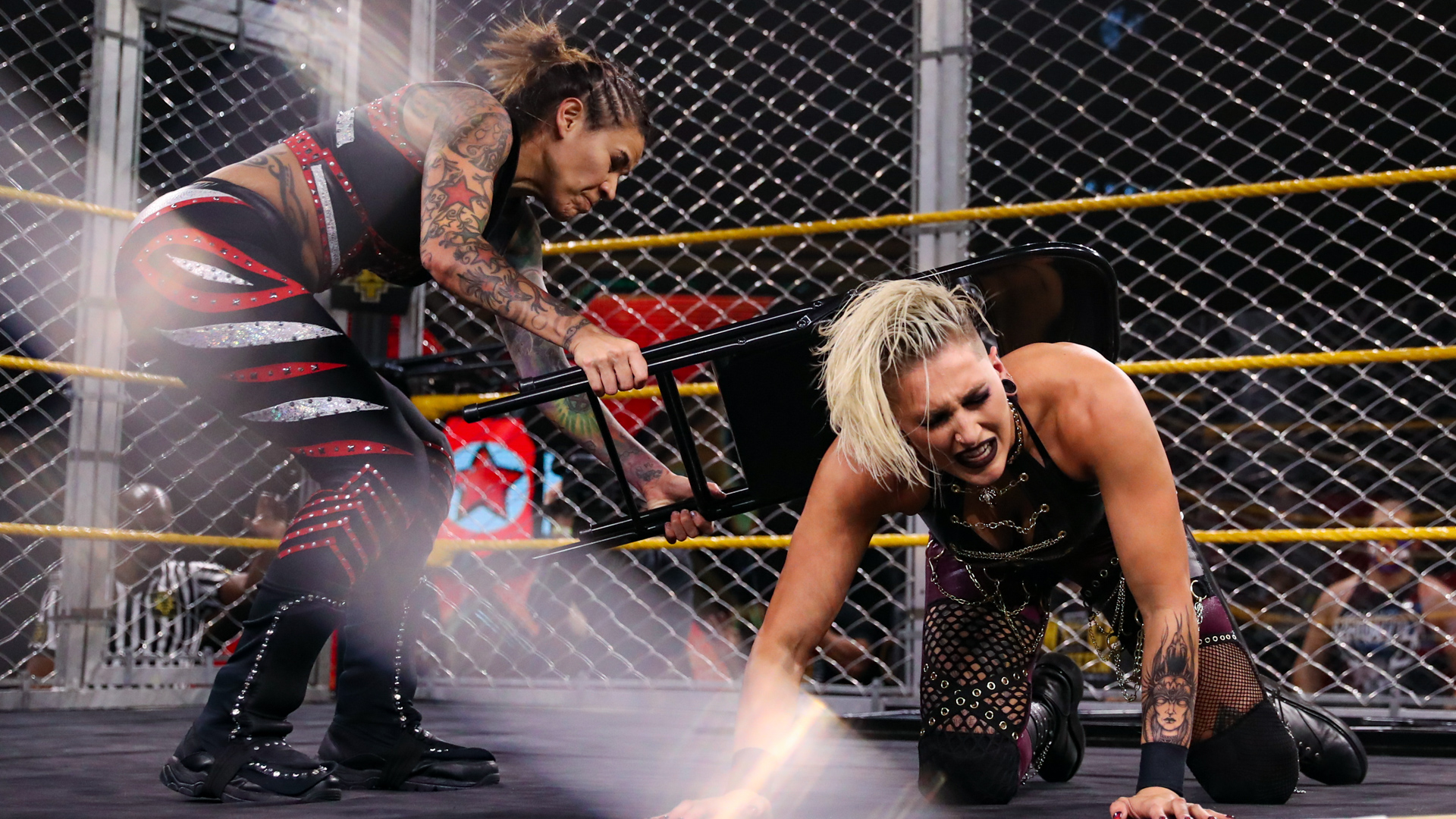 Backstage, Martinez says Ripley is a bad woman but she isn't as bad as her. Martinez isn't going to stop tonight until there is nothing left of her.
Steel Cage Match: Rhea Ripley vs. Mercedes Martinez w/Robert Stone

Martinez slides a bunch of weapons into the ring. As Martinez is setting up a table, Ripley attacks her from behind. Ripley traps Martinez behind the cage door. Ripley kicks the cage into Martinez multiple times. Ripley sends a table into the ring. As Ripley gets in the ring, Martinez kicks her into the cage. Martinez tries to hit Ripley with a chair but Ripley avoids it. Ripley launches Martinez into the cage. Ripley stands on Martinez's back.

Martinez counters the Riptide into the fisherman's buster. Martinez slams Ripley on a steel chair. Ripley kicks out. After the break, Martinez German suplexes Ripley off the top rope. Ripley chucks a chair at Martinez while she is on the top rope. Ripley dropkicks Martinez. Superplex by Ripley. Spinebuster by Martinez. Ripley locks Martinez in the Prism. Martinez grabs a kendo stick and hits Ripley with it. Robert Stone tries to climb the cage. Ripley hits Stone with the kendo stick.

Martinez attacks Ripley from behind. Martinez hits a neck breaker off the top. Ripley kicks out. Stone is still hanging from the top of the cage. Martinez sets up the table. Martinez tries to hit a fisherman's buster off the top through a table. Ripley escapes and hits Riptide off the top through a table for the win.

Winner- Rhea Ripley

Io Shirai and Rhea Ripley vs. Dakota Kai and Raquel Gonzalez

Kai tags in Gonzalez. Ripley and Gonzalez trade strikes. Gonzalez knocks Ripley into her corner. Shirai tags herself in. Shirai lands a diving ranna that sends Gonzalez to the outside area. Shirai knocks Kai off the apron. Gonzalez catches Kai. After the break, Ripley is tossing Kai all over the ring. Gonzalez and Kai double team Ripley outside the ring.  Gonzalez and Kai take turns working over Ripley. Ripley manages to tag in Shirai. Shirai cleears the ring. Shirai lands a double knee strike to Gonzalez. Gonzalez falls out of the ring. Tiger Fient kick by Shirai on Kai. Kai kicks out.

Kai escapes Shirai's back breaker attempt and almost hits the Kairopractor. Shirai counters with a ripcord knee strike. Gonzalez breaks up the pin. Gonzalez picks up Shirai. Kai blasts Shriai with a boot. Gonzalez powerslams Shirai. Shirai kicks out. Mercades MArtinez pulls Ripley off the apron. Ripley hits her head on the ring steps. Shirai manages to make it back to her corner. Ripley pushes Shirai out of the way of a charging Kai. Ripley tags herself in. Ripley stumbles into the ring. Gonzalez boots Ripley in the face. Gonzalez hits her one-armed powerbomb for the win.

Winners- Dakota Kai and Raquel Gonzalez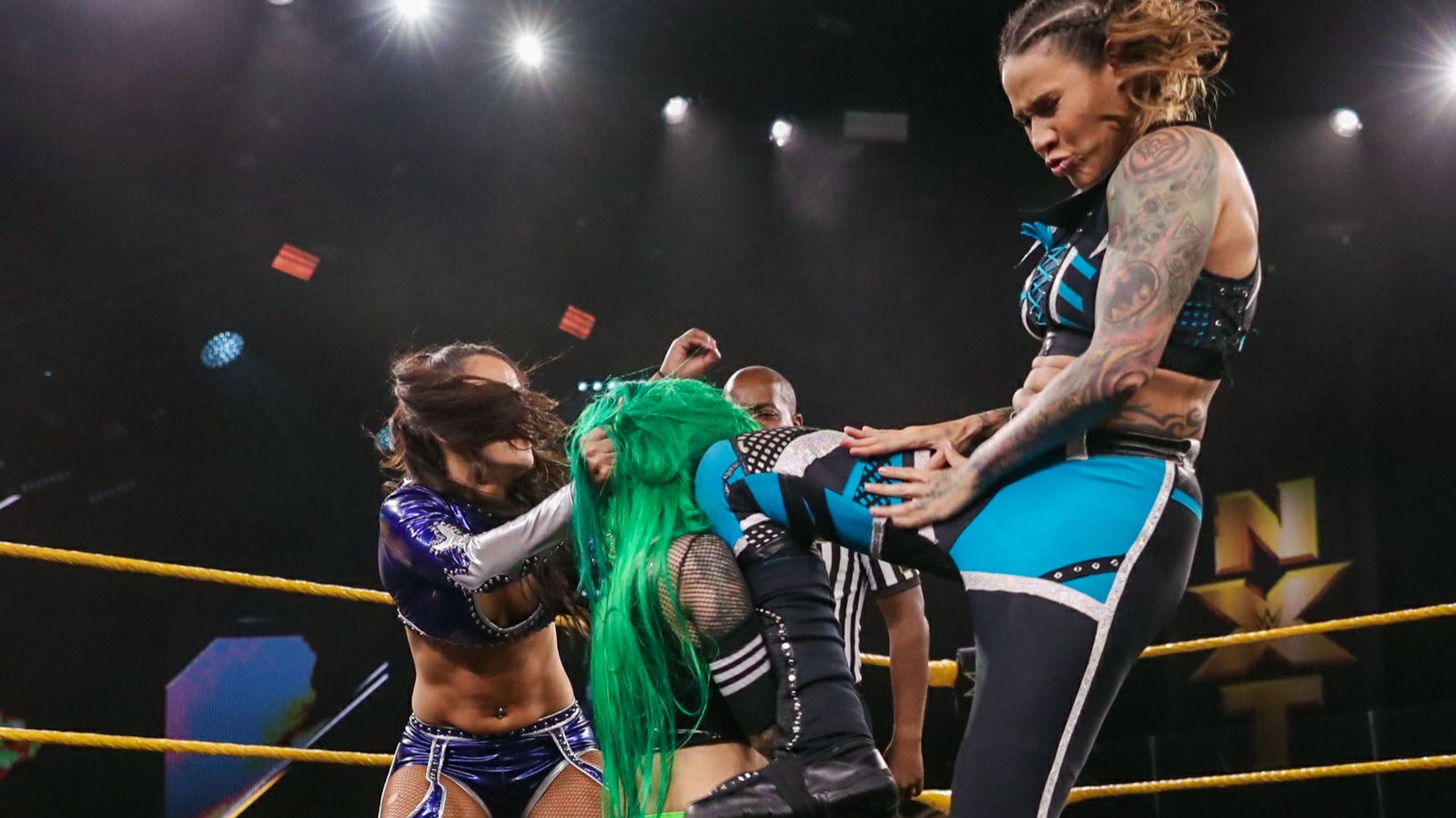 Mercedes Martinez & Aliyah vs. Rhea Ripley & Shotzi Blackheart

Robert Stone escorts his clients to the ring. Shotzi (helmet and all) drives her tank to the ring, then the former champ gets her own entrance. Rhea charges Martinez at the bell, and right away it's time for some ground and pound. Shotzi and Aliyah are legal, and Blackheart welcomes her to the ball pit, but it's really close to the wrong corner, so right after Aliyah kicks out, Shotzi has to dodge a swing from Mercedes. That lets Aliyah slam her down by the hair, and the heels have the advantage as we go to commercial.

Blackheart gets a boot up on a charge as soon as we return, then gets a sunset flip for two. Aliyah regains control and gets a nearfall of her own, then tags in her partner. The veteran sadistically picks Shotzi apart as Rhea can only watch. Blackheart gets free of a submission by putting Martinez's shoulders down, but gets hit with a butterfly suplex for her trouble. She kicks out, and escapes one suplex with a cradle and turns another into a DDT. Both women tag, and Ripley turns inside out with clotheslines. Knees follow, then a basement drop kick. Aliyah tries to escape, but gets grabbed and smashed with a facebuster. Mercedes breaks up the pin. She gets sent outside, and Aliyah is flipped into the corner. Tag, but Martinez grabs Shotzi. She gets pulled down into the ring, and both legal wrestlers are down. Rhea goes to deal with Martinez, and there battle ends with a power bomb over the barricade onto the concrete floor! Blackheart recovers to hit a senton off the top to win it.

Stone checks on Martinez, and she isn't moving. The winners celebrate.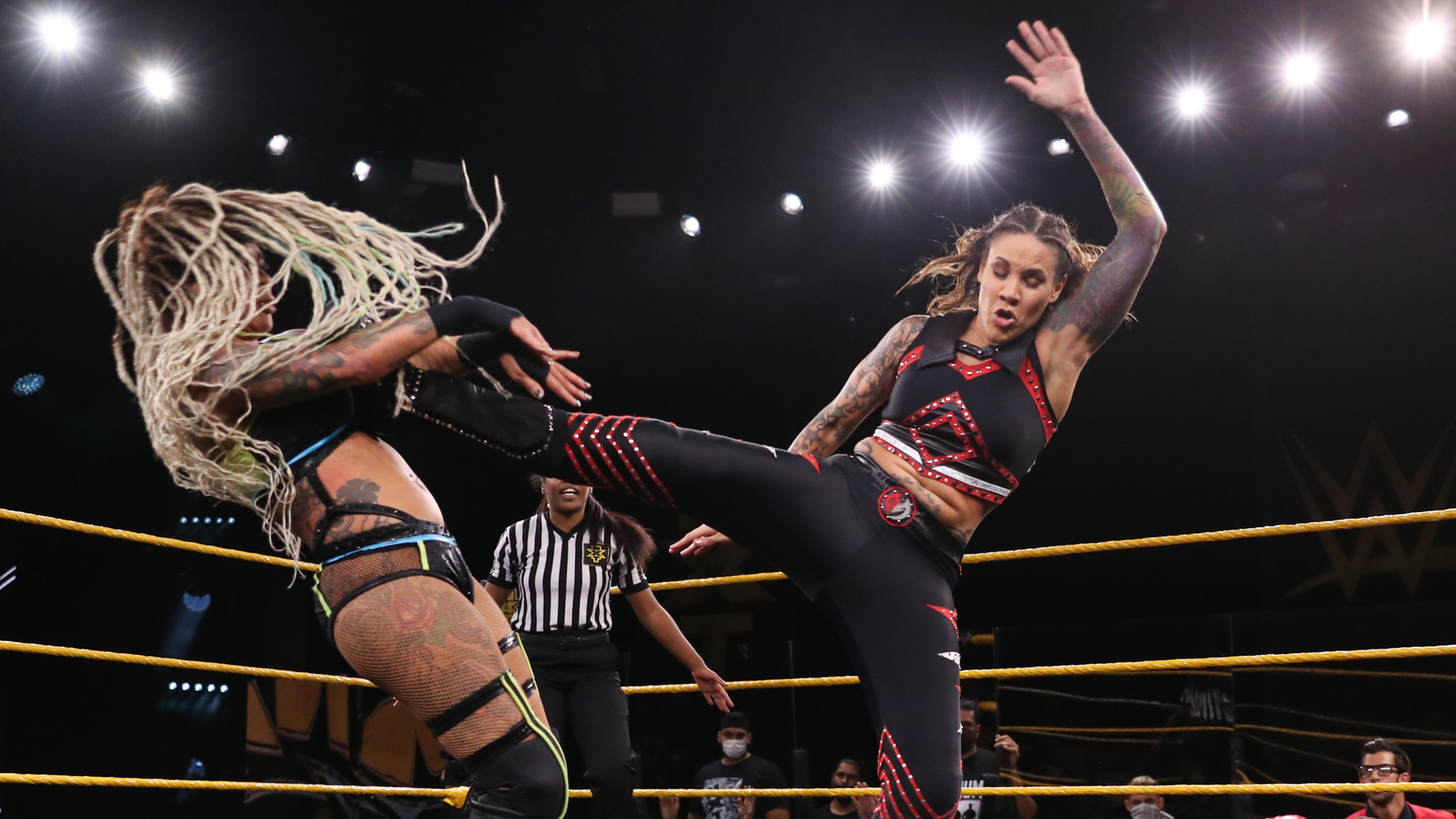 Kacy Catanzaro and Kayden Carter vs. Aliyah and Mercedes Martinez

We go back to the ring and out comes the team of Kacy Catanzaro and Kayden Carter. Out next comes The Robert Stone Brand – Aliyah and Mercedes Martinez with Robert Stone.

Stone takes the mic and starts bragging about his brand in the ring, saying they've been on fire as of late. He's always looking to the future and the future is bright. He offers Catanzaro a spot in the group, saying she's hanging out with a loser. Catanzaro stomps on his foot. Stone gets sent out as the bell hits. Carter and Aliyah go at it to start.

Catanzaro and Carter double team Aliyah for a 2 count. Carter comes back in for more double teaming in the corner. They hit superkicks and Carter covers for a 2 count. Martinez comes in and they hit a big double team on Carter but Catanzaro breaks the pin up. The referee restores order as we go to commercial.

Back from the break and Aliyah drops Carter for a 2 count. Martinez tags in for some quick double teaming in the corner. Martinez with kicks to the gut in the corner. Martinez with big thrusts in the corner now. Martinez drops Carter again as Aliyah tags in and delivers a leg drop for a 2 count. Carter rolls Aliyah into a crucifix pin but she kicks out. Martinez comes back in as they keep Carter in their corner. Martinez dominates Carter in the opposite corner.

Aliyah is back in now. Carter counters a move but Aliyah goes for the leg on the mat. Carter kicks her back and crawls for the tag as the crowd rallies. Martinez and Catanzaro tag in at the same time. They go at it and Catanzaro unloads in the corner. Catanzaro drops Martinez and hits a big kick but can't get the pin. All four get involved now. Martinez struggles with Catanzaro in the middle of the ring but ends up hitting the Air Raid for the pin to win.

Winners: Mercedes Martinez and Aliyah

After the match, The Robert Stone Brand stands tall in the ring but Martinez wants no part of a celebration. We go to replays. We come back and the winners stand tall as Stone hypes them up. The music interrupts and out comes Rhea Ripley to the stage. Martinez invites her to the ring. Ripley walks down the ramp as Aliyah and Stone exit the ring. Ripley rushes the ring and goes at it with Martinez, dropping her with a kick. Aliyah comes from behind and decks Ripley. She checks on Martinez but gets pushed away. They go at Ripley again but Shotzi Blackheart makes the save. Shotzi runs wild and clears the ring of Martinez and Aliyah. Shotzi helps Ripley up and they stand tall as The Robert Stone Brand looks on from the outside.