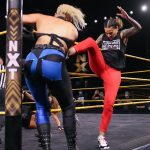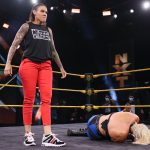 Dakota Kai defeated Rhea Ripley

During the match, Kai tries to superplex Ripley back into the ring. As the referee is distracted, when Mercedes Martinez attacks Ripley from behind with a big kick. Kai hits the Go To Kick for the win. After the match, Martinez hits the ring again. Martinez drops Ripley with the air raid crash before posing over Ripley.

Backstage Segment

McKenzie Mitchell catches up to Stone, Martinez and Aliyah. Robert  says that Ripley turned down his invitation to join the brand, but that doesn't mean they're done with her. The heels laugh and walk off.