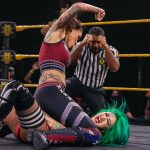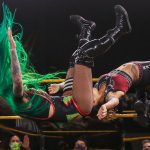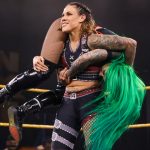 Shotzi Blackheart vs. Mercedes Martinez We go back to the ring and out comes Shotzi Blackheart in her mini-tank. Out next comes The Robert Stone Brand – Mercedes Martinez with Aliyah and Robert Stone himself. Martinez hits the ring to pose and they stand behind her. The bell rings and Shotzi unloads on Martinez with strikes, dropping her. Shotzi charges but Martinez tosses her over the top rope to the floor. Stone and Aliyah taunt Shotzi, distracting her. Martinez comes out and attacks from behind, dropping Shotzi to boos. The referee counts. Martinez slams Shotzi face-first onto the apron edge. Martinez brings it back in and mounts Shotzi with rights and lefts. Shotzi blocks a Fisherman's Buster and looks to make a comeback. Blackheart with a big boot and a shot in the corner while Mercedes is down.

Martinez kicks out of the Sunset Bomb. Shotzi avoids a clothesline, then drops Martinez on her face. Shotzi with big forearms and a Switchblade kick in the middle of the ring. Shotzi yells out and hits a reverse senton while Martinez is positioned on the middle rope. Shotzi covers but Martinez kicks out at 1. Shotzi charges again but Martinez catches her with a big Spinebuster in the middle of the ring. Martinez covers for a 2 count. Martinez mounts Shotzi in the middle of the ring with more strikes. More back and forth now. Martinez blocks Sliced Bread #2 out of the corner. Martinez climbs up with big forearm shots to the chest. Martinez hits a huge super German suplex from the top for a pop. Martinez picks Shotzi up in the middle of the ring and drives her down into the mat. Martinez covers for the pin to win.

Winner: Mercedes Martinez

After the match, Martinez stands tall and is joined by Stone and Aliyah. We go to replays. The boos get louder as Martinez poses in the corner.