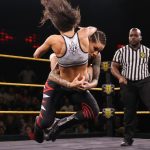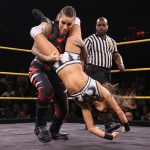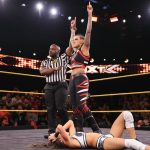 Back from the break and we get a vignette for Mercedes Martinez.

Mercedes Martinez vs. Kacy Catanzaro

We go to the ring and out comes Mercedes Martinez. Kacy Catanzaro is out next. We get a video package on Catanzaro as she makes her entrance. The bell rings and they go to lock up but Kacy goes behind. They briefly tangle and Martinez hits a big Spinebuster in the middle of the ring for a 2 count.

Martinez works Kacy over in the corner. Martinez with a suplex now, holding Kacy in the air with one arm. Kacy counters, drops Martinez and then nails a dropkick. Kacy with a head scissors takedown and a corner clothesline. Kacy keeps going but Martinez rocks her. Kacy with a big takedown for another close 2 count. Kacy tries to come in from the apron but Martinez knocks her out of the air, out to the floor. Martinez follows and works Kacy over on the floor, sending her face-first into the ring post. Martinez sends Kacy back-first into the apron again as the referee counts, then into the barrier to keep control.

Martinez sends Kacy back into the barrier and then brings her into the ring. Martinez nails her Fisherman's Buster in the middle of the ring for the pin to win. After the match, Martinez poses on the ropes as her music hits.