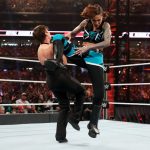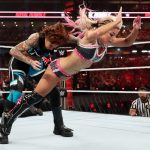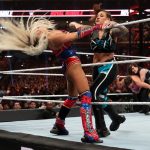 30-Woman Royal Rumble Match

The #6 spot goes to Mercedes Martinez of NXT. Martinez hits the ring and levels Holly with a big boot. Martinez slams Cross next. Bliss attacks but Martinez slams her face-first. Martinez sends Lana to the apron and they tangle. The next person out is Liv Morgan. Liv runs to the ring and eliminates Lana immediately. Fans pop. Lana throws a fit at ringside, yelling at the referee about how she won't leave. Liv laughs. Liv turns around to Mercedes.

Mercedes sends her to the apron but Liv fights her off. Lana eliminates Liv and fans boo. Liv and Lana brawl at ringside now. Referees finally break them up.

Mandy Rose is out next. Cross tells Rose to bring it. She charges and Rose drops her with a shoulder. Rose sends Cross to the apron but she fights back in. Bliss works on Belair. Cross tackles Rose and unloads on her. The #9 spot goes to Candice LeRae from NXT.

LeRae hits the ring and unloads. LeRae hits a moonsault on Cross. Belair eliminates Holly. Bliss attacks and Rose gets sent out but she lands on top of Otis, who was under the ring hiding. Rose smiles and thanks him, then goes back in the ring to unload on Bliss. Rose works on Bliss now. The #10 spot goes to Sonya Deville. Deville drops LeRae, then Belair, then Cross. Deville with a big knee to Cross. Deville sends Cross to the apron and she hangs on. Otis is still at ringside dancing around. Deville and Rose work on LeRae. Martinez works on Cross. Belair and Bliss trade shots. Deville fights Martinez off now. Bliss and Cross double team Belair. Deville and Martinez continue trading shots in the middle of the ring. Rose and Deville double team Martinez now. Otis is annoying the announcers. Rose and Deville double team Martinez and eliminate her.